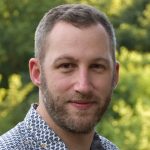 John Leach
John Leach is human living in Huddersfield, UK. He makes frequent and somewhat diverse changes to the universe, though isn't entirely sure where he ends and it begins.
You can e-mail him at john@johnleach.co.uk.
---
What I'm doing at the moment
I co-founded and run Brightbox, a UK-based "infrastructure as a service" company. You can build cloud servers, load balancers and all that kind of stuff.
When I make the time I also work on one or two personal programming projects too, like News Sniffer.
I'm currently doing a lot of gardening, faffing with home automation and restoring an antique pianola "player piano".
Things I have played or sung
I'm learning to sing and play guitar at the same time. I'm also learning to play accordion, which is hard enough to play on its own.
I'm one half of the two-piece Robber John, playing all the guitar and singing roughly half of the singing. We play the occasional gig around Leeds. We're on Sound Cloud and Youtube.
Some of my older solo recordings are on Sound Cloud and Youtube. I also do a few open mic nights around Huddersfield on occasion.
I've voiced several characters in the Yorkshire-themed point and click comedy adventure computer game Yorkshire Gubbins.
I was previously in The Gillroyd Parade, West Yorkshire's one-time second-best three-piece acoustic folk-scifi band (now retired).
With Louisa I started Ukepedia, a project to perform every Wikipedia articles on Ukeleles. Please help.
Things I have written, said or made
Free software projects I've been involved with recently
Other projects I've been involved with
Family
I live with my best friend Louisa Parry.
I'm a legal guardian of four black cats called Kaufman, Matilda, Ren and Hickory Shagbark and one black, white and ginger cat called Strange.