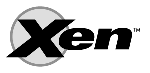 I found a great HOWTO on getting a Xen virtual machine up and running on Ubuntu Edgy. Unfortunately, Xen is pretty broken on Edgy. I managed to get one virtual machine running easily but on starting a second one, Dom0 panics and the whole box freezes. It's been reported on launchpad but as it's in universe I guess it's just not a priority.
As a workaround, I installed the Xen kernels from Debian testing (Etch). These pulled in the Debian Xen userspace packages too, but they didn't clobber anything. So now I have a couple of mostly Edgy virtual machines which I plan to use as a little test lab.
Whilst troubleshooting, I also found another good Debian specific Xen HOWTO with lots of good general advice too.
Etch is looking good. I work with Sarge a lot on servers and firewalls but I've not played with Etch much. I think I'll get it installed in a Xen machine and have a play. I feel bad for not helping with its testing though.