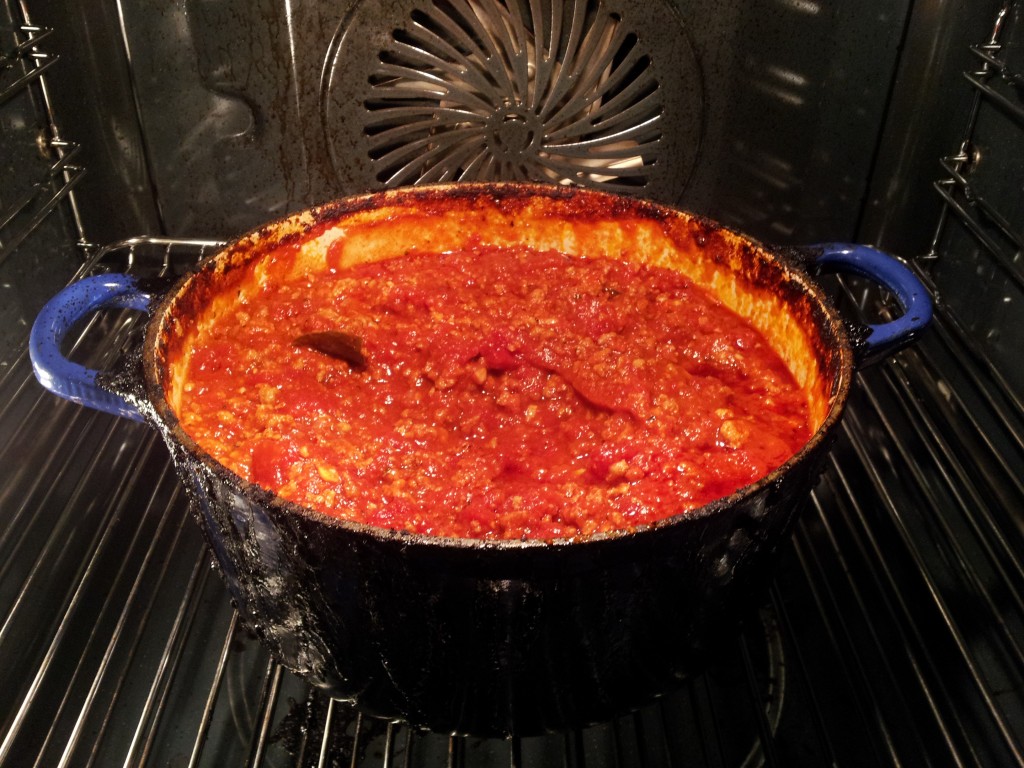 This is my pork and beef mince pasta sauce recipe, heavily inspired by my Grandma's recipe. I cook it in a casserole dish with a lid in the oven for about 4 hours. This is not quick food, but it's well worth the wait and this recipe makes about 6-7 big portions, suitable for freezing.
Ingredients
500g pork mince
500g beef mince
a little olive oil
2 onions
8 cloves of garlic
4 x 400g cans of chopped tomatoes
2 x 140g cans tomato purée
2 teaspoons salt
2 teaspoons brown sugar
2 teaspoons dried Italian herbs (basil, oregano, thyme)
2 bay leaves
1 teaspoon ground black pepper
Process
Chop the onions and fry them in the olive oil for 5 mins (don't brown them)
Finely chop and add the garlic and fry for a few more minutes
Add the pork and beef mince, fry on a high heat until it's no longer pink
Add everything else, mix well and bring to boil
Put lid on pot, put in pre-heated oven at 150 degrees Celsius
Cook for 4 hours, stirring once an hour or so
It's interesting to taste the sauce as it cooks – it really does get better and better the longer you leave it. I used to cook it on a regular stove top but it required almost constant stirring to avoid burning so now I cook it in the casserole dish.
If you like it wetter, add some passata. You can probably leave out the brown sugar – I've not really been able to tell a difference with or without it myself.
Serve with spaghetti with plenty of Parmesan cheese and black pepper.
UPDATE: I've changed the recipe from 1kg pork mince to 50/50 pork/beef mince after some feedback from friends, and some experimentation of my own. It's a lot tastier like this and it turns out, this is actually what my grandma used to do!